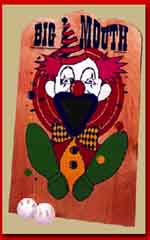 Bring back those great days at the Carnival at your next party or event. Step right up! Test your skill! Try your luck! With more than 50 game choices, Maurice's Party Animals has the carnival game for you. All of our games are top quality and enhance the look of any event with colorful, animated graphics.
Classic Carnival games like Huckle Buckle, Tin Pan Alley, Knock-a-Block and Tip-a-Troll will have your guests enthralled.
Our Carnival Game Package includes six Carnival Games, three orange & yellow striped carnival booths, three attendants and 150 prizes (inflatable instruments, hats, small stuffed animals, sunglasses, etc). Additional games, booths, attendants and prizes are available at a la carte prices.
OTHER GREAT CARNIVAL ITEMS!