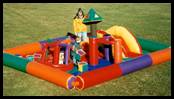 Laugh 'N Learn Inflatable Playground
This inflatable playground is a preschooler=s dream.  In more than 220 square feet of play space, the Laugh-n-Learn features such educational activities as: number matching, color blocks, zipper practice, shoelace tying, and shape identification.  It also houses an inflatable slide, a crawl-through tunnel, and the always popular sea of balls.  Perfect for events big & small, indoors or out. 
17  feet x 13 feet x 5 feet  (h)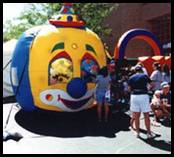 Happy Clown
Balloon Typhoon
Step inside our giant clown head and feel the thrill amid a sea of swirling balloons.  A classic. 
15 feet x 15 feet x 15 feet (h)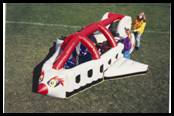 Space Buggy Ball Pond
Play Center
This space-themed playland is out-of-this-world. With two separate play areas, kids will play among the extraterrestrials in the ball pond and discover the Aouter limits@ in the adjacent soft play zone.  Netting keeps even the most enthusiastic preschooler safely contained. 
17 feet x 13 feet x 4 feet (h)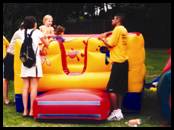 Mini MoonBounce
Just as its name implies, our mini MoonBounce is a miniature version of our larger MoonBounces.  Its unintimidating size makes it a welcome attraction for the younger set.  It=s low walls makes it easy for Mom & Dad to assist from the sidelines.  Perfect for indoor parties.  
Recommended for ages 5 & under.
8 feet x 8 feet x 4 feet (h)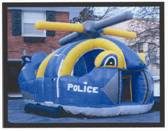 Rescue Chopper
Ball Pond
Kids will think they've left the ground as they wade through a sea of balls in our Rescue Chopper Ball pond.  Also popular in conjunction with our Rescuville Playground shown below.
17 feet x 10 feet x 8 feet (h)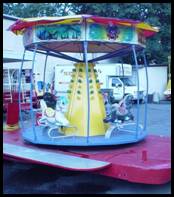 Kiddie Merry-Go-Round
The preschool set will delight in this true kiddie classic.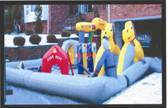 Try Our Rescueville 
& Chopper Combo
Rescueville Inflatable Playground
Like the Laugh 'N Learn, but with a salute to all of our rescue heros.  Kids will feel like heros themselves as they play among our inflatable policemen, hospital, ambulance & safety lessons. 
17 feet x 13 feet x 7 feet (h)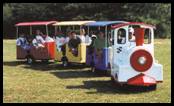 Trackless Train
Chug. Chug.  Clickety Clack.  Clickety Clack.  Our trackless train will run on any flat surface or grass.  Great fun for small parties & picnics.  A perennial favorite at school fairs & community festivals.  Sure to thrill any young train fan.